Race & Ethnicity
Who experiences these problems? We wanted to look at the demographic composition of the regions who experienced air and water contamination. Looking at composition for residents, there is a distinct separation where the majority of residents are White and Hispanic. Particularly, whites live in the northeast and southeast side of Kern. The majority of them live closer to Sequoia National Forest, farther from the main highways. Hispanics live in the northwest, with some living on the furthest east corner. The majority of them live next to farm lands and much closer to the main highways.
Looking at our maps on the Ozone and water contamination, it looks as though Hispanic population suffer more from water contamination and whites from high Ozone levels. However, we suspect that both groups suffer the environmental injustices together as residents of Kern County. Both air and water travel across racial boundaries and bring the health complications to its residents.
Poverty
Kern County is composed of primarily Hispanic and whites. These two groups made up about 72% of the county. Both populations have a high poverty rate of 22.7% as shown on this map made by Policymap with census data. Despite the scale of the industry's growth, many of the residents fall within poverty standards. Although the median household income is lower than national median, over a quarter of households earn more than $100,000/year as of 2018. We suspect that the disproportion between this figure and poverty rate can be observed by the oil boom that has lifted a number of households into the middle class.
Image Courtesy: Simply Analytics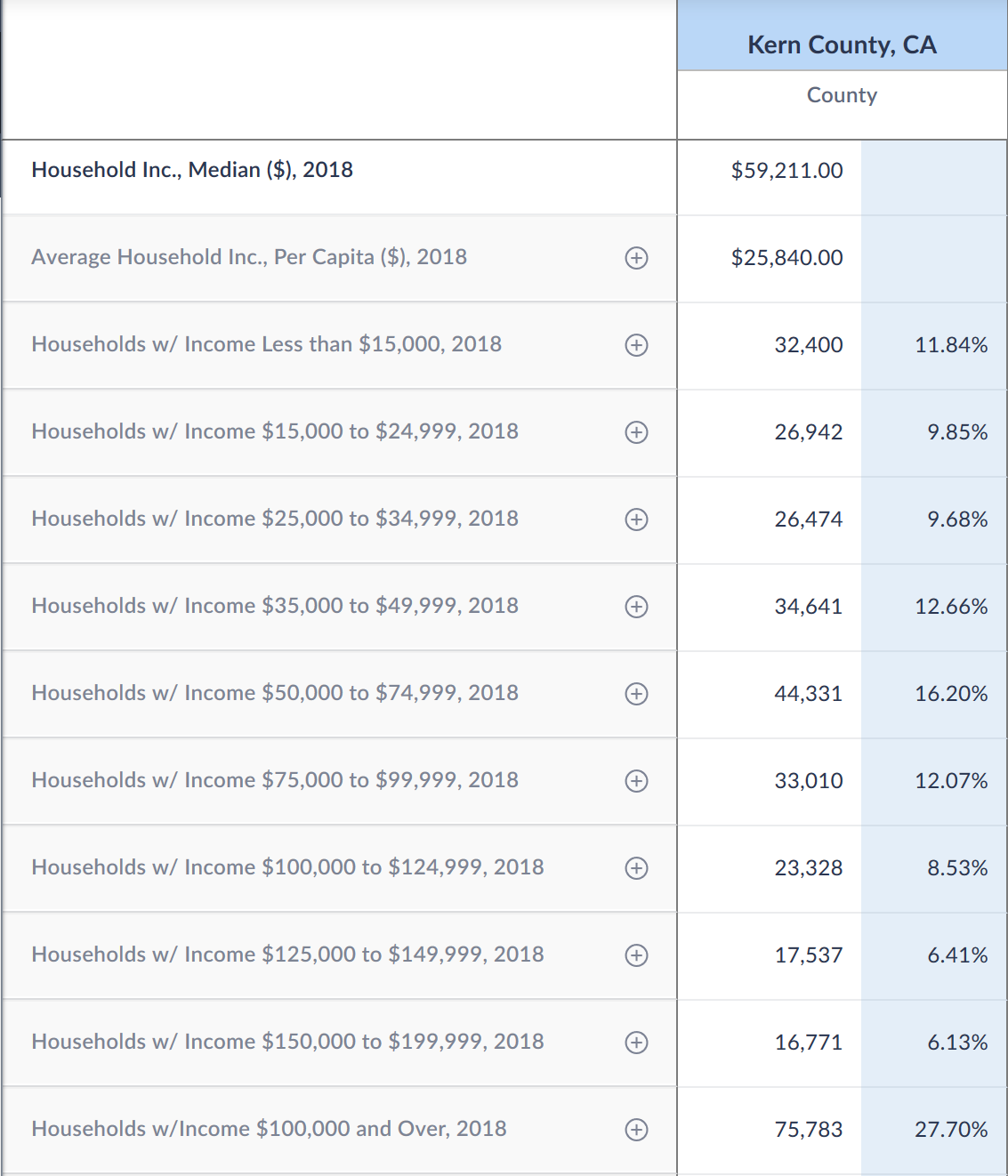 Industry
In the previous oil well and asthma map, there was an increase amount of wells opened for drilling beginning in 2007. In this map, data from Longitudinal Employer-Household Dynamics (LEHD) confirms
the change in land use from 2004 to 2007.
Map 1 shows a the 2004 land use for both industries, the county tracts were mostly used for agriculture. Map 2 shows the decrease in agriculture land use and the increased activity in oil industry in the southeast tracts and those northeast of Bakersfield .
If Kern County was a state, it would be in the top 5 oil producers in the nation


Jeff Nickell
Kern County Historian
Overall, while Kern County has historically produced oil and agriculture, its environmental effects are becoming exacerbated due to the increasing amount and proximity of wells to populated areas. Climate change is also a big factor, as higher temperatures, wildfires, and decreasing rail fall, create conditions which worsen air and water quality.