Susannah Lim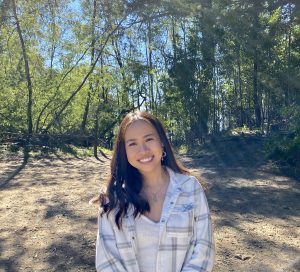 Hi everyone! My name is Susannah, and I'm a fourth-year majoring in Integrative Biology and minoring in Disability Studies. As an FSI intern, I shadowed a radiation oncologist at California Pacific Medical Center in Spring 2020. Then, during the 2020-2021 school year, I was paired with a geriatrician and an internal medicine physician. I'm so grateful to have had the opportunity to learn about the healthcare system and public health from so many great people. I'm so thrilled to be a TA, and I look forward to hearing about your unique experiences in FSI and beyond! Outside of FSI, I volunteer with the Unconscious Bias Project, do research at the Lawrence Berkeley National Laboratory, and am an Integrative Biology peer advisor. I'm also a part of MEDLIFE and Down syndrome Community Outreach. I love to play the piano and guitar, make Spotify playlists, and journal!
Shayna Weinstein
Hello! My name is Shayna Weinstein and I am a fourth-year majoring in Public Health and minoring in Nutritional Sciences. As an FSI intern, I shadowed a pediatric gastroenterologist at UCSF Benioff Children's Hospital in which I observed the value in a meaningful doctor- patient relationship and inquired about various GI illnesses. I was also paired with a MD/PhD student as a mentor who provided invaluable insight on the trajectory towards medical school and how to thrive as a student. I am so excited for the opportunity to be a TA and facilitate conversations on important health care topics and mentorship experiences in discussion section. Outside of FSI, I am a Health Educator with Peer Health exchange and spend my free time in various coffee shops, hiking, bike riding, and trying new recipes.
David Perez
Hi everyone! My name is David Perez and I am a fourth year studying Integrative Biology. As an intern, I shadowed a pediatrician at an outpatient clinic as well as a DNP at UCSF. One of the most fulfilling aspects of FSI is meeting every week to have intriguing discussions in our small group seminars, so I am ecstatic to keep the conversations rolling as a TA this year! Outside of class I am an avid runner, tennis enthusiast, and love to talk about anything Star Wars related.
Angela Mora
Hey everyone! My name is Angela, and I'm currently a third year student majoring in Public Health with a minor in CalTeach. As an intern, I was a mentee to a pediatric endocrinologist, as well as a MS1. I'm so excited to continue with FSI as a TA to hear about the experiences y'all have and keep having important discussions about public health topics! Outside of FSI, I'm a research assistant at an MCB neurobiology lab, a residential assistant at Cal, a barista at Starbucks, and I mentor underrepresented students through MAS tutoring. In my free time, I like to watch TV, workout, and paint.
Sylvie Fraley
Kevin Lew