---
ANIME LINKS

Anime Links from Sam's Anime page and a few of my own
Last updated on February 12, 2000
---
NEW: Brian's Anime Page
- "The Best Anime Site Around"

The Unwritten Laws of Anime
- surprisingly accurate observations.
SUNET ftp site
- an anime clip/pic/music for every letter of the alphabet.
Marc Hairston's Anime Page
- informative page on Nadia, Totoro, and other productions!
Anime Web Turnpike by Jay Fubler Harvey
- looking for something? Anything? You'll find it here :) Very fast and organized. A must for your bookmarks!
Nerv HQ- nice EVA page coming along.

Masatos Anime-Manga-Launchbase by Stefan "Masato" Heinze
- a no nonsense Anime/Manga resourse page. Another great place to go to if you are lookin' for somethin'.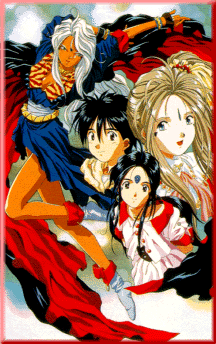 Rob's Anime Page by Robert Kwong
- beautiful Anime images! Nice collection of popular links.
Maikeru Home Page - Anime & Manga by Vernon Michael
- a homely page with a cute section on Anime drawings.
Jim Ramberg's Home Page
- has a collection of special interest links. Neat frames.
The Phoenix Nest by Phoenix
- very nice description of Anime and its related topics. Nice graphics.
Charles Kwong's Wonderland
- has some really cool and informative links.
Anime and Manga Resources List by Michael Van Biesbrouck
- by far the BEST collection of Anime-related links.
AniWeb by Ray Hwang
- cool layout of pages and Beautiful images. Very artistic page!
Brian's Anime and Manga Page by Brian Castleberry
- cool page with beautiful images of my favorite Animes.
---