Archives by date
You are browsing the site archives by date.
By Richard on May 20, 2008
Companies like Google are successful because they appeal to consumers. Google provides for free a useful service that people actively seek out – one needs to visit the web site to use Google's apps. Revenue comes from charging businesses. The polar opposite can be seen in Microsoft's business model, which passes costs to consumers. Not […]
Posted in Economics, Technology
By Richard on May 18, 2008
Something that's been going around: Once upon a time, a guy asked a girl 'Will you marry me?' The girl said:'NO!' And the girl lived happily ever after and went shopping, dancing, camping, drank martinis, always had a clean house, never had to cook, did whatever the hell she wanted, never argued, didn't get fat, […]
Posted in Romance
By Richard on May 15, 2008
From Marketwatch Community: For many individuals I've spoken with and some recent television stories, budgets and checking accounts are on the verge of breaking because higher prices across the board are absorbing not only all discretionary spending money, but forcing consumers to take on more debt than they've known before (ie. credit cards). Until the […]
Posted in Economics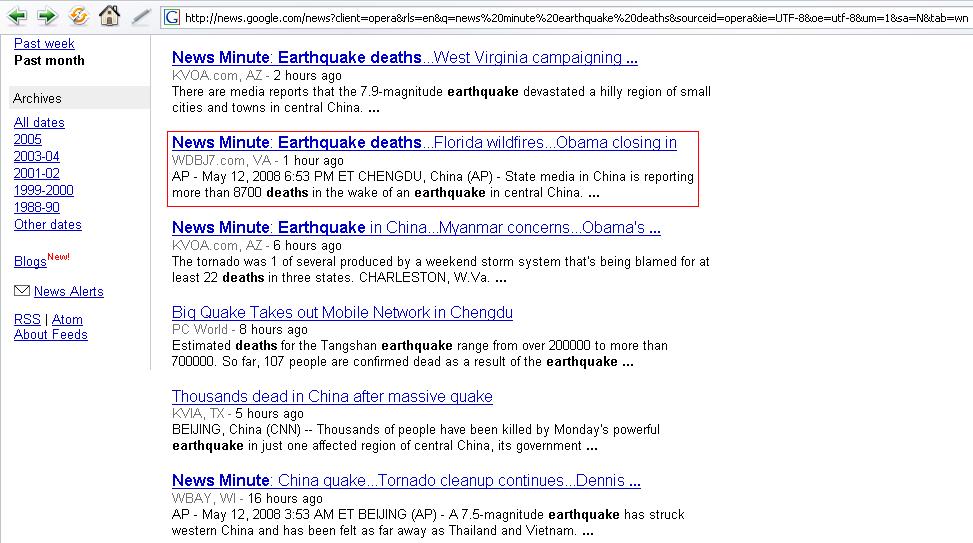 By Richard on May 13, 2008
Posted in Humour, Politics | 1 Response
By Richard on May 11, 2008
This has got to be one of the funniest threads to come out of slashdot in years. Let's start things off: A Linux geek with a girlfriend?? Yeah right! Whoa there… Something is surely wrong, when instead of fscking her right proper he sits her down with Ubuntu… Best one yet: This is Slashdot, not […]
Posted in Romance, Technology
By Richard on May 10, 2008
Wow, apparently there's someone else who knows and recognizes Jack Kerouac. Here's a sample: i highly suggest smoking weed: drugs are the only route to true contentment, that or applying eastern philosophy/transcendentalism to your life…but considering materialistic, workaholic America today, the former is a better choice. and im only half joking. in moderation and with […]
Posted in Books, Sociology and Demographic Trends | 2 Responses
By Richard on May 9, 2008
Not just gone wild, but gone completely if this news report is any indication. [youtube=http://www.youtube.com/watch?v=4uuJ7–uhIU&hl=en] Though, when watching that clip, my body kept on reminding me how hot those ASU cheerleaders are.
By Richard on May 8, 2008
"So, what's going on in the world today?" I peered up from under the cover of my Wall Street Journal. Dark brown hair gushed from under the cover of a red and white beanie, making her the splitting image of one of Santa's elves. A girl had walked from across the room to where I […]
Posted in Romance | 2 Responses
By Richard on May 3, 2008
As proof that I don't pirate [most some of] my songs, I opened up the wallet today and bought Antje Duvekot's first two albums. Little Peppermints is her debut, which I can only describe as hauntingly beautiful. Some parts may not be as professional, but that only adds to the sense of listening to a […]
Posted in Music, Politics | 1 Response