Archives by date
You are browsing the site archives by date.
By Richard on April 23, 2012
In terms of manpower, terrorist capabilities, weaponry, and ideological support? The Far Left, Radical Religion, or Neo-Fascists? Prompted by this video (which gave rise to my Katya Adler post). Hm, funny side note. Neo-Nazis these days are less corporatist and more populist than they have ever been. Now it's anti-globalization (makes sense as it's dominated […]
Posted in Politics
By Richard on April 22, 2012
An interesting look at the varied and colourful characters in the French election. Apologies that this referral is late and already after the 1st round results. Melenchon's words for Le Pen are probably the highlight. My personal preferences lean towards Sarkozy.
By Richard on April 22, 2012
Katya Adler is a latest addition to the list. What a find! Smart, motivated, and boasting of an impeccable resume including an ongoing stint at the BBC. Plus she's a language aficionado. What is the substance flowing through the Rhine that gives rise to such a blend of beauty and intelligence? From anecdotal experience, German […]
Posted in Romance
By Richard on April 22, 2012
Wayne Allyn Root had it right when he invited Kim Kardashian to move to Nevada. Americans of all stripes (but mostly white) are fleeing the Golden State to, in the words of Tom McClintock: "California is blessed with the most equitable climate in the entire Western Hemisphere; it has the most bountiful resources anywhere in […]
Posted in Economics, Politics, Sociology and Demographic Trends, Travel
By Richard on April 18, 2012
Apparently not during the weeding process, when jealous HR women can roadblock an application of someone too pretty. However, it can help from the interview on. Unless the person in question is a man, in which case it's always helpful to be handsome. Or does this all only apply to Israelis?
Posted in Humour, Sociology and Demographic Trends
By Richard on April 18, 2012
There is an undeniable trend in the articles that are coming through my feed list. Lawyers are seeing growing income equality, prompted by top lawyers getting away with charging extra-primo (side question: how would medicine be different if every doc could bill however they wanted instead of accepting insurance leavings? I'd argue that lawyers can […]
Posted in Economics, Health Care, Sociology and Demographic Trends
By Richard on April 14, 2012
Inspired by the comments section of The Economist:  The grade inflation at American Universities reminds me of the few American lecturers I have at my university (GO NUI MAYNOOTH). All the new lecturers from the States get confused that the highest grade given out regularly are in the high 60's, very high grades to mid […]
By Richard on April 3, 2012
That's it! Game of Thrones has inspired me to take a vacation to the awe-inspiring landscape where it was filmed. Some of the places I'm dying to see include: Hm, maybe the summer between 4th year and graduation would be a fine time.
Posted in Travel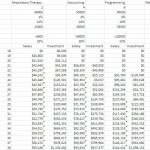 By Richard on April 1, 2012
Finishing an article I started last October. Au contraire, Steve Jobs, students today shouldn't necessarily pursue their dreams, so say a variety of commentators. Reason being that only a few jobs share the same characteristics that make them appealing to people. The leftover jobs are just as useful (often more so) to society, but are […]
Posted in Computer Stuff, Economics, Health Care, Sociology and Demographic Trends | 1 Response