Unpacking Food Trauma: A Workshop on Addressing Oppressive Structures Within the US Foodscape with Anti-Racist Scholar and Author, Dr Breeze Harper
The industrialization of food production and perpetually increasing corporate greed, especially in colonized regions of the world, has poisoned the relationship between many communities and food. Determined by race, class, and gender, food trauma takes root in the scarcity of adequate nutrition, the removal of access to culturally relevant ingredients, food apartheid, climate crises, and a weightloss focused restrictive diet culture. Join us in a conversation with Dr. Breeze Harper to discuss the ways in which we can engage in food justice through a trauma informed and intersectional lens and how to make our movements as inclusive as possible.
---
Thank you for attending the Environmental Justice in Indonesia Panel on March 12 | 6pm-7:30pm PT!
Focused specifically on the nation of Indonesia, this panel will feature prominent Indonesian activists and journalists who will shed light on the current state of the environment on the archipelago. This panel will cover three of Indonesia's most pressing environmental justice issues — water access, land rights and the impacts of deforestation This event is a collaboration between the Berkeley Indonesian Student Association (BISA), Student Environmental Resource Center (SERC), Students of Color Environmental Collective (SCEC), and is sponsored by the Center for Southeast Asia Studies (CSEAS) and the Department of South & Southeast Asian Studies (SSEAS).

FEATURED SPEAKERS:

Basten Gokkon
Basten is a full-time journalist based in Jakarta, Indonesia. He mainly writes with fierce passion about environmental issues, but his beats also include human rights, public health and their intersections. He started his journalism career in 2014 at an English-language Indonesian news publication and developed an interest in telling stories from his fascinating home country to the rest of the world. Basten is also an avid traveler who enjoys trekking and scuba diving. The latter has subsequently emphasized his respect for the marine ecosystem and the importance of sustainable fisheries and oceans conservation. He currently writes for award-winning environmental news publication Mongabay.
Sophie Chao
Dr. Sophie Chao is a Postdoctoral Research Associate at the University of Sydney's School of Philosophical and Historical Inquiry and an Honorary Postdoctoral Fellow at Macquarie University. Her research explores the intersections of Indigeneity, health, capitalism, and ecology in the Pacific. Sophie received her BA in Oriental Studies and her MSc in Social Anthropology from The University of Oxford. She completed her PhD in anthropology at Macquarie University in 2019. Sophie's doctoral thesis examined how Indigenous communities in Merauke, West Papua experience, conceptualize, and contest the adverse social and environmental impacts of large-scale deforestation and monocrop oil palm expansion. The thesis was awarded the Australian Anthropological Society Best PhD Thesis Prize in 2019 and the John Legge Prize for Best Thesis in Asian Studies in 2020. Sophie previously worked for Indigenous rights organization Forest Peoples Programme in the United Kingdom and Indonesia. She has also undertaken consultancies for the United Nations Food and Agriculture Organization, the United Nations Working Group on Human Rights and Transnational Corporations, the Roundtable on Sustainable Palm Oil, and the Zoological Society of London. For more information, please visit www.morethanhumanworlds.com.
Gita Syahrani
Gita Syahrani is now the Executive Director to the Secretariat of Sustainable District Association or Lingkar Temu Kabupaten Lestari (LTKL) – an innovative districts association working towards sustainable land use through collective actions. Prior to this, Gita was a convener for the private sector coalition on sustainable palm oil under the Indonesia Palm Oil Pledge (IPOP) and a leading member of the Planning & Funding Deputy of the former National REDD+ Agency. Gita also convene her own community movements, including 'Hutan Itu Indonesia', a positive campaign & movement to position forest as Indonesia's Identity, SiDalang & Indonesia Plastic Bag Diet, a waste management movement and Social Corporate Lawyer Society (SocolaS), effort to provide low-­‐cost corporate legal service for SMEs, social enterprises and social movement.
Prior to her time with the National REDD+ Agency, she held a Senior Associate position and Lead Counsel for Green Investment and Climate Change division which she set-­‐up at one of the first-­‐tier independent corporate law firms in Indonesia. Gita is also serving as a member of the Permanent Committee of International Affairs at the Indonesia Chambers of Commerce & Industry (KADIN). Gita holds an LL.B from Padjadjaran University Indonesia and earned a diploma on Environmental Law for Professionals from Washington College of Law, American University – Washington, DC. She obtained an LL.M on Climate Change and Energy from CEPMLP, University of Dundee – UK as Chevening Scholar. In 2019, Gita was also elected as President of Chevening Alumni Association Indonesia (CAAI) – serving the position until now.
Farwiza Farhan
Farwiza is a fearless environmental activist of her generation, leading the fight to protect the Leuser ecosystem in Aceh, Indonesia. Farwiza focuses on ground level species protection and high level legal advocacy on the other. She built a grassroots community movement that succeeded in advocating for law enforcement against oil palm companies and launched a citizen lawsuit that empowers local communities to have meaningful involvement in policy making. The oil palm companies were subsequently fined US $26million and the plaintiff in citizen lawsuits expands to create new grassroots environmental defenders. Her work through the Forest, Nature and Environment Aceh Foundation (Yayasan HAkA) has taken on big multinationals and governments in order to protect this land.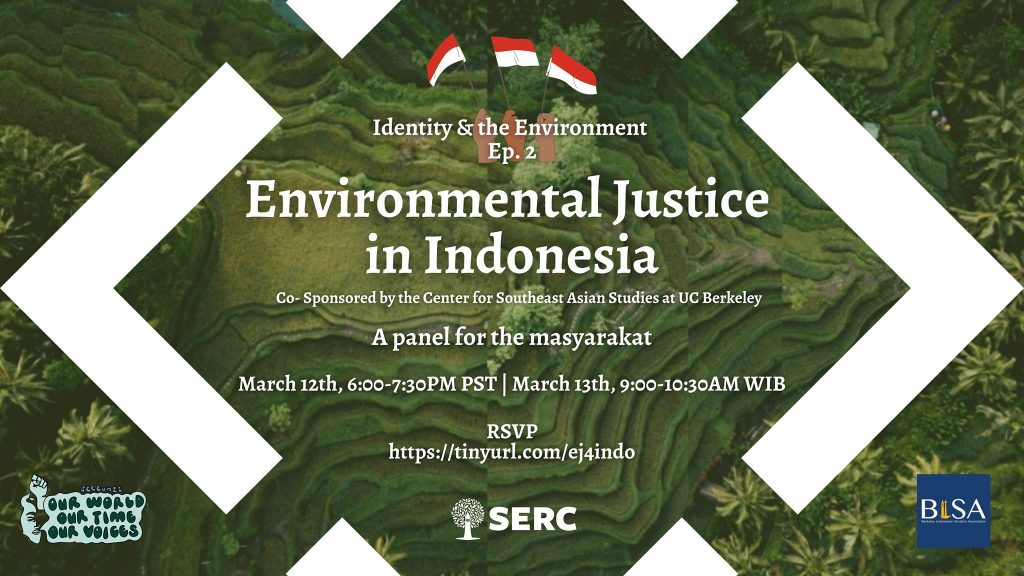 ABOUT OUR COLLABORATORS:
The Berkeley Indonesian Student Association (BISA) was established in 1985. Over the past three decades, it has gone through a series of changes with the purpose of creating stronger friendships between Indonesian students in the UC Berkeley campus. BISA is created by the students, for the students. Through continuously building a larger and closer community, we aim to support each other as the people we are now and the people we will soon become.
"CSEAS promotes the expansion of Southeast Asian Studies on the UC Berkeley campus by facilitating faculty and graduate research, by funding language instruction, by presenting lecture series and cultural programs, by organizing public outreach and international conferences, and by hosting visitors and scholars."
This event is part of the lineup for the Students of Color Environmental Conference 2021: Our World, Our Time, Our Voices, which aims to recenter the environmental narrative around environmental justice by giving intentional space for students of color to learn about unique and intersectional environmental topics and share our own view of environmentalism. This FREE conference is hosted by the Students of Color Environmental Collective (SCEC) at UC Berkeley starting in March 2021. For more information, visit socenvcollective.berkeley.edu
This panel is the second iteration of the Identity & the Environment Series, which aims to provide space to UC Berkeley's identity-focused RSOs to explore their community's specific relationship to the environment and environmental issues.
Image Description: Identity & the Environment Episode 2: Environmental Justice in Indonesia, Co-Sponsored by the Center for Southeast Asian Studies at UC Berkeley, A panel for the masyarakat, March 12 6-7:30PM PST, March 13 9-10:30AM WIB, rsvp at tinyurl.com/ej4indo