San Juan Capistrano Hot Springs
December 24, 1999 [updated January 08, 2004]
I don't remember the first time I heard of the San Juan Hotsprings, but I have known of them for a long time. I do remember seeing in a regional park office a photograph of a large wooden sign emblazened with "San Juan Hotsprings." But I was told that the hot springs were closed and had been for some time, and I learned no more. The image of the sign remained in my memory, along with the question: where is it? Winter break arrived this semester and for some reason I had the idea to go find the legendary hot springs. It was nearly a year since my famous ascent-via-volkswagen of Santiago Peak—time to discover something new in the Saddleback Valley.
---
San Juan Hotsprings ruins
In the morning on Monday, Eric and Stephanie showed up at my house more or less unannounced. This was very fortuitous, as I was all set to embark upon an expedition. We all climbed into the volkswagen and set out for the Ortega Highway.
We first visited the community of San Juan Hotsprings. San Juan Hotsprings is located just off the Ortega Highway (State Route 74) as it enters the western boundary of the cleveland national forest. Across the highway from the fire station there a dirt road (which from the highway looks just like a turnout) leads down to the community beside San Juan Creek.

Only three residences remain; the rest are in ruins, apparently destroyed in a fire and then weathered by the elements. Part of an adobe structure still stands, kept company by several fireplaces with chimneys.

Presumably these ruins were the remains of a resort, the San Juan Hot Springs resort of which we'd heard so much.

The ruins are fun to explore. At first we thought it would make an excellent location to camp out for a weekend. The area is totally secluded from the highway above, there is a pleasant stream (San Juan Creek) running over rocks, and, of course, there are the ruins. Then we discovered the inhabited residences and the camping-out plan didn't seem so great anymore.

The ruins were interesting and fun, but they weren't hot springs. We'd found something cool, so we didn't go home empty-handed, but we hadn't found what we were looking for. I was already late for the annual SJI christmas party, so it was time to go home.
---
The hotsprings themselves
That night at the SJI party I brought out the topo maps to show where we went on our trip, and to ask if anyone knew anything about the San Juan hotsprings. The first thing I noticed when I looked at the map is that the hot springs are on the other side of the highway from the community with the same name. I was so excited I wanted to drive out that night, but was persuaded to wait until the morning. I convinced Chris, my friend, housemate, and fellow SJI employee, to come along.
After meeting at the extraordinarily early hour of 9 am, and some last minute Christmas shopping (it being Dec 24), we set out again for Ortega highway. We parked by the ruins and walked West on the highway until we found an old swimming pool now filled in with dirt and surrounded by chain-link fence liberally posted with foreboding "no trespassing" signs. We hopped over the siderails on the Hot Springs Canyon bridge and onto the piling, then traversing across an aggregade-and-chickenwire flood control structure. Here we found ourselves in the cool shade of oaks, on a wide and smooth dirt road. Following the sound of moving water, we found a warm stream, and it wasn't long before we discovered the hot springs themselves. They really do exist!
In the shade of a magestic date palm, hot water cascades from one pool to the next after emerging from the earth. The water is clean, but feels slippery, indicating a large amount of dissolved solids, and is too hot to sit in -- we measured a temperature of 50.0°C (122°F). Nonetheless the area is pleasant (assuming you don't mind a weak odor of sulphur) and the water is fine for the bathing of one's feet.
After leaving the pools, the overflow joins a small stream down the hill, eventually joining the creek in San Juan Hotsprings Canyon creek, which shortly joins San Juan Creek.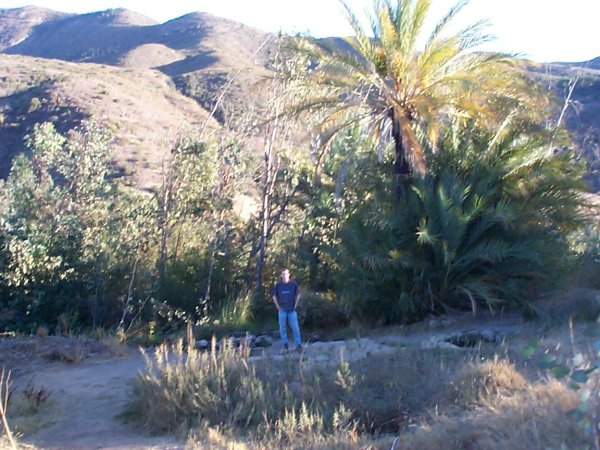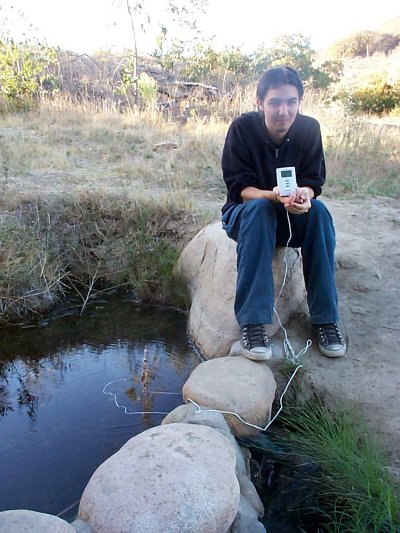 ---
Hotsprings picnic area
Once we returned to the car, we decided to check out Hotsprings Canyon Road, which we had just discovered. The road leads past a collection of canyon residences and eventually enters the Lazy W Ranch, a methodist church camp, where we turned around. On the way out, Chris spotted the famous sign in what appeared to be a picnic area on the north side of the road:
The picnic area is surrounded by "No trespassing" and "Closed Area" signs mounted on a barbed wire fence. The gate even sports coiled barbed wire to prevent people from climbing over it. I returned a few days later to check it out.
On the other side of the barbed wire, the picnic area is immaculate. The trash is collected from the bins, and the records posted indicate that the array of portable toilets is serviced weekly. The famous sign announces the path to the hotsprings, which begins by traversing a beautiful bridge (freshly painted) across the creek. Why is this area off limits? And why, if it is closed, is it so well maintained?
One sign indicated that the area could be used with the provision that one acquire a Wilderness Permit from Casper's park. This seemed reasonable enough, so I went to Casper's and asked at the kiosk how I would go about obtaining a wilderness permit to visit the hot springs. The reply was that I could not. I asked about the campground (now I think it is a picnic area) off Hot Springs Road. The ranger said there was none. Eventually the ranger granted that I would be allowed to hike from the Casper's Park main enterance to the hot springs, but added that I wouldn't want to do that because it's a 9.5 mile roundtrip hike, and, "besides," the hot springs are all "scummy". I protested: There's a perfectly good road that goes right to the hotsprings picnic area, and then a fine trail. This I could not do because I would have to, according to the ranger, cut their barbed wire. Clearly this discussion was going nowhere so I just gave up and went to the hotsprings anyway. I will try again some day to get the full story on the hot springs from a friendlier ranger, of whom there are many.
---
Steve White of Gray Creek, British Columbia, collects hot springs related items, such as postcards. He wrote to me recently and enclosed xeroxes of two postcards from the San Juan Capistrano Hotsprings' heyday. Steve writes: ``One shows buildings and the pool through a wire fence. The other one is even more interesting. This one was taken at an elevation and depicts 10 buildings and two water tanks.'' Many thanks to Steve for these interesting historical items!
[original scanned images: sjc1.tiff (842kB), sjc2.tiff (889kB)]
---
Correspondence

Date: Sat, 1 Sep 2001 19:06:43 EDT
From: ARedHtBabe
Subject: San Juan Hot Springs

I just found your website today and wanted to ask you if you happened to encounter the "man made"  part of the San Juan Hot Springs while you were there? Sometime in the mid 1980's,  someone had approximately 15  hot tubs installed in an area near the natural springs  which supplied the water for the tubs.   Each hot tub was far enough away from each other so you had lots or privacy (and each  had the same great water "jet" features that any spa comes with) What an experience to be relaxing in a hot tub  out in the forest at 3 a.m.   with the trees and the stars and virtually no people.   These tubs were off Ortega highway and a small ranger station on the left side of the highway was the only landmark for finding the place. There was a small cabin where you stopped to pay for the hourly rental of the tub - they also rented towels there and sold cold drinks. From there, it was about a 5 minute walk down a dirt road to the hot tubs (they were directly across from a small building with restrooms).  There were narrow paved walkways throughout the area where the tubs were - dimly lit pathways so you could find your way to your assigned tub - tubs were in various sizes from 5 ft - 8 ft.  
I don't know why the place was closed down - or if the hot tubs are even still there in the ground but it was one of my favorite places to go and I really miss it!
---
Date: Wed, 26 Dec 2001 16:01:40 -0800
From: jslj

Don't know how I got to your article about san juan hot springs in the first place, but I would like to say that it was very interesting in deed. I was at casper wilderness park just yesterday with my family for a hiking trip, and we found it enjoyable. Any ways, I hope you will find out why the picnic area is closed yet well-maintained. I'd be interested to know why myself.
john
---
Date: Mon, 14 Jan 2002 15:32:43 -0800
From: Langston, Frances
Subject: San Juan Hot springs
Hello-
They closed the hot springs????? (geeze, where have I been?) I guess that is why I could not find it on the internet. I was looking for a romantic place to spend the evening and I remembered the hot springs. Approx 12-15 years ago, I took my boyfriend du jour for his birthday. As far as I remember, there were about 6 or 8 individual, private pools you could rent by the hour at that time. We took a basket with wine and cheese, sat under the oaks, and had an absolutely wonderful time. It is too bad they are closed.
Thanks for posting the information.
Frances Langston
Long Beach-CA
---
Date: Sat, 30 Mar 2002 06:16:10 -0800
From: C. Erickson 
To: tobin@splorg.org
Subject: San Juan Hot Springs
Hi Tobin,
Ran across your page on the San Juan Hot Springs. Good stuff. Wanted to add some info for you and others.
The San Juan Hot Springs resort area was closed down in 1993 or 94 (I believe). The land belongs to Orange County. One of the stories I heard of the closure was that during some construction on Ortega Hwy, many large trees were cleared to make room for a new bridge, thus ruining the privacy of many of the hot tubs (most of the tubs paralleled Ortega Hwy). The guy who leased the land and ran the resort gave up his lease (or maybe the County bought him out) to the land. He also ran another hot springs resort up near San Luis Obispo.
All of the hot tubs have since been removed and the land put back to it's 'natural' state.
The pristine picnic area you spoke of was installed around 1999 or 2000 by the County. They brought in picnic tables, portable toilets, etc.. Unfortunately, it's not a public area. It's used for day trips for schools with the Orange County Department of Education. They bring school kids out for a day of environmental education. At least the place is being used for education and not just barbed-wired off and abandoned (like it was for about 4 or 5 years).
Good Day.
Chris Erickson
Assistant Mananger
Lazy W Ranch Camp
---

Date: Wed, 19 Jun 2002 09:28:02 -0700
From: Joe Denton
Subject: Ortega (San Juan) Hot Spring

Many years ago, in the early 70's, the Hot Springs were a place for the locals and a few others to party.
One of the people that joined us was Red Skelton.
I spent quite a bit of time there and a girlfriend and I had a quite enjoyable "first time" there.
The springs were quite different than I see on your site for the most part. The small foot baths the top by the fig trees (which btw were part of a common supper for us, along with frogs and crawdads from the stream across Hwy 74) fed down to a larger pool that had cement walls and a mud bottom. We would rake and clean the bottom to make sure people didn't cut their feet on glass that idiots may have broken and let drop in. The pool was about 15 X 10 if my memory serves. It should have been directly downhill from where you are standing here: http://splorg.org/~tobin/hotspring/sanjuan/overview.jpg
There were also other pools in the near area, including a couple of narrow but deep ones that were just right for two close friends. These were pretty were hidden.
There were two pools closer to the road, to the west, that just had a small bit of water and were mostly filled with cattails.
Some of us would camp nearby, and I remember one night it started raining and I slept in the warmth of the large pool rather than be cold and wet out of it.
Hope this sheds a little light.
Joe
---

Date: Thu, 20 Jun 2002 19:09:35 -0700
From: Valerie 
Subject: your site

I enjoyed the read on your site - nice job. Since the 70's I've enjoyed going to natural hot springs and even though San Juan Hot Springs weren't entirely natural - enjoyed the layout there too. Although it was pretty civilized there - this "old hippie" is used to "in the nude" - the only way to swim! I live in San Pedro but was a "regular" at San Juan Hot Springs till it was shut down. The rangers probably won't mention it to you but they shut down the springs after a couple of mountain lion sightings very close to the springs vicinity - NOT good! I suspect they will never re-open. The very thought of a lion munching on a bather put off the regulars instantly and word got around.
If you like natural hot springs - and very primitive, beautiful area I suggest you trip up to Canyon Guadalupe Hot Springs. Do NOT attempt to go in the rainy season and don't go w/o an off-road vehicle (and a real one- NOT one of those Suzuki knock-offs). It is breathtaking and WELL worth yout time - lots of hiking area - snakes too and coyotes - we're going again to be sure. It's on the web but I don't have the link. Last time we camped (it's all camping - family owned and operated - Mexican "restaurant" on the premises and plenty of beer) we heard dirt bikes off in the distance - across the way which really put a damper on it for awhile - email "Rob" the guy you make reservations with - he'll fill you in.
Happy bathing! (and screw the suits!)
Valerie
---
Date: Mon, 10 Feb 2003 14:14:49 -0800
From: Tina Case 
Subject: san juan / ortega hot springs

Hi.
I enjoyed the experiences of the people who wrote in regarding the hot tubs.I also went looking for something romantic to do and came across this.......I was shocked to read the hot springs had been closed and was hoping someone may have more info.Perhaps someone had bought the property and re opened the once secluded and quiet place that we enjoyed years ago?If anyone has new information or knows of a place close in proximity and similiar to the ortega hot springs-please email me.I would really like that. Thanks so much.Have a great week.
Tina
---

Date: Tue, 4 Mar 2003 11:00:20 -0800
From: Zoe Scott 
Subject: From So. Cal.

I was just looking on-line to see if the San Juan Hot Springs still existed and came upon your page. It is the only site I could find any information on the hot springs. In the mid to late 80's I frequented the camp site that featured the hot tubs you could rent for the evening. It was a great get-a-away, that wasn't too far from home. I'm am very interested to find out why they are not open to the public anymore. I'll probably go to check out the area you spoke of anyway, but am interested to find out if the area will be open to the public any time soon. I'll keep checking your site to see if there's any new information. Thanks for all of the helpful info., so far. 8)
Zoë Scott
Costa Mesa, CA
---
From: Russ Kiessig
Subject: San Juan Capistrano Hot Springs
Date: Fri, 20 Jun 2003 23:03:22 -0700
Hi there Tobin,
It is a real hoot to see the continued interest in San Juan Hot Springs. I am the man who had a lease on the place for ten years and more from about 1980 to 1992.
When I finally secured a lease from Orange County, it was after some time - maybe a year and a half or even two years - and a lot of difficult negotiations with various county and state officials, not to mention the bank. By the time we opened for business I had a collection of exactly 100 business cards from individual governmental officials who each had an opinion and some authority over what each of them wanted and required me to do. This was very costly.
When I arrived on the scene, there were a few ruins including a pair of ancient end to end swimming pools, an old soaking pool and the small hot springs pools where 122 degree water flowed out at about 50 gallons a minute. The water is high in pH, about an 8, which is one way to get clean quick, although 122 degree water is too hot to sit in - I tried. One of our innovative things was to use gaseous chlorine to lower the pH and then liquid or Dichloro to sustain the safe levels required by the Health Department. This was simple enough, but they had never seen anyone use mixed chlorine types before.
We spent a fortune there. We paved the entry road, built a parking area, deep fresh water well, a bridge, a large reception building with restrooms, 25 hot tub sites, 15 of which had redwood hot tubs, two acrylics and the rest gunite spas. We also built two large public rest rooms with showers and then a gunite 98 x 40 foot modern swimming pool inside the space left where we demolished the ancient old pools. This is how we could get it approved: a replacement, not entirely new construction.
The pool had a nice large deck area, a large pool equipment building and was fully fenced. The natural hot pools were improved slightly to contain and focus the run off where a huge stand of "bamboo" had grown. Much later we realized that bamboo stand was actually the dreaded African pest plant Arundo Donax that someone had planted in that effluent stream and it eventually became rampant in spite of our attempts to control it.
Also, we built an entry gate building, a manager's residential cottage and half a dozen trailer hook-ups and around 20 campsites with a large grassy play area. My wife and I spent close to a million dollars, plus God knows the extent of the free labor for ten years, striving to make this area habitable, pleasing and nice.
In addition a resort hotel, restaurant and conference center were planned until the County approved Caltran's plan to literally move the highway north right into our lease site. They called this a bridge replacement, which also was done, but a difficult curve had caused at least two deadly accidents and they needed to straighten the road. Oddly it could have been straightened by a shift to the south, but Caltran's environmental section determined a shift north would preserve more trees - actually a grossly false assessment, which the County could have and should have objected to. As it was they killed a large stand of Eucalyptus trees on the south side and over 40 oaks on the north side as it was. A great small business killed dead by extreme environmental creeps.
The business was going very well. There was great public acceptance and being open 24 hours a day brought safety and civilization to a really remote and sometimes dangerous location.
As with all good things, there were flaws. We suffered from employee theft and drug abuse. There was vandalism as well, but we were still profitably improving and upgrading the facility.
Then Caltrans came in and destroyed our tree cover, did extensive construction for over a year and left us with roaring trucks and cars' headlights and noise right in our face, so to speak. They spoke of compensation, but that was a series of lies and there was none, they were just stroking us along until they were done. How do people like that live with themselves? What rotten human beings and OUR government employees at that.
The ambience was damaged badly. Profits fell off. Government intrusion was just awful. We had an inspection or a "visit" from one government person or another almost every day, an incredibly time consuming activity even when the individual was very nice and even enjoyable. As with all things - some were nice and some were positively rotten. Each entity had its own agenda and each individual representative interpreted that agenda differently, a mind bending environment in which to work or conduct a business.
Things gradually became worse and worse and in early 1992 we surrendered the keys and lease to the County's Lease Managers, who almost instantly had someone available to take over my lease, although their approach with all that appears to have failed. Their understanding of that market and their perspectives of the site, the business and its requirements were very flawed. It is worth noting that one faction in the County wanted us there and operating successfully. Another faction objected to our presence entirely as this was supposed to be a wilderness park only. Still another faction wanted a larger, wealthier and more politically connected lessee-operator than I was.
So, I returned to full time care and feeding of my San Luis Obispo and Paso Robles hot springs properties which continued to flourish over my 27 year ownership. In fact I just sold the San Luis Obispo property in April after 27 years. That facility delivered joy and great service to guests from all over the world over those years and people are still coming here to visit and enjoy this really nice place. Its name is Sycamore Mineral Springs Resort near Avila Beach. Peripherally, it generated lots and lots of money for the county government, provided a constant 150 to 180 jobs in addition to another 30 or more independent massage practitioners, many of the very best on the Central Coast for many years. I had employees who worked for and with me for 19, 20, 15, 10, 12 years - a long time - very, very good people.
Orange County shot themselves in the foot. A year or so after I left, a forest fire was near the place and someone made the decision not to fight it there, but to let my old buildings burn. Foolishly, they had made me remove all the spas and hot tubs including the plumbing and wiring and paths, thereby decreasing the value to the public, another lessee or vendor and the people of the County of Orange.
After the fire, they chose to tear down the concrete block restrooms and reception building in lieu of saving or repairing them. The pool was just closed. Then it was just fenced off. What a waste - how pathetic. There were three separate hot springs there, one too hot to use. If you illegally enter and use either of the other two, take a vial of chorine with you to add to the water as they are bacteria laden for sure.
By the way, we were never closed except for a few days over the awful lion scare although mountain lions and big bobcats and coyotes were certainly in the area.
In the final analysis, in a courtroom, Caltrans paid me and my wife a small settlement. Had I known then what I know now, it would have been far larger than it was. What a bunch of lying creeps. The destroyed ten years work for no good reason at all, then lied about it and forced me into court, always a loss. If you want to go to court, BRING MONEY, lots of it. About 3 months in Hawaii's worth of money.
On a good note, I see and hear of many people who really loved the ambience we created there and I and my family have many wonderful memories of our days there. I also enjoy seeing the eyes pop on those old lease managers from Orange County when they see what I built in San Luis Obispo, so definitively underlying what they lost, what the could have had built for them there in Orange County.
Thanks for your good work Tobin. Ask me any question you like. I plan to live another 20 years or more.
Russ Kiessig - email me if you like
---
Date: Sat, 6 Sep 2003 00:03:45 -0700 (PDT)
From: r vale 
Subject: San Juan Hot Springs
I found your site when I was trying to look up the actual mineral composition of the San Juan Hot Springs. I lived in the area from 1984 to 1996 and went to the hot springs frequently when it was still open. The water there was unique in that, unlike most hot springs, it did not smell strongly of sulfur. Rather there was a different mineral smell that was so fragrant that you didn't want to take a shower after visiting the springs, as that would wash away the beautiful fragrance that lingered on your skin and in your hair. I don't know what mineral it was, but I once bought an off-brand of shampoo for removing chlorine from your hair, that was made of "all natural" ingredients and smelled exactly the same as the San Juan Hot Springs water. If anyone can help me identify this mineral, I'd appreciate it.
Anyway the hot springs did not close due to mountain lion "sightings." There had been two actual cougar attacks in Casper's Park. I met one of the victims, a little girl who was in my daughter's YMCA group. The operators of the 15-20 individual, by the hour, hot tubs kept Dobermans for this reason. But even this is not why the hot springs closed. As I recall, there was a problem with semonila (sp?) in some redwood hot tubs near San Francisco. This affected the health codes for public redwood hot tubs throughout California. The operators of the Hot Springs could not afford the necessary upgrades to bring the hot tubs up to the new code.
At the time there was a rumor among the Rangers that Orange Co. was putting the land up for sale. I dreaded the idea of some big corporation buying it and turning it into another commercialized spa like Glen Ivy (which I used to go to as a child when it was simple and natural). So I contacted the local Native American tribe, the Ahachemem (probably spelled wrong), called the "Juaninos" by the Spanish missionaries. I thought they likely had a claim on the land, and probably had the best chance of preventing it from being commercialized. Unfortunately, they had their own red tape. They were in the process of becoming a Federally recognized tribe. Until they were legally recognized by the US govt., their hands were tied regarding the hot springs.
I'm glad to see the land hasn't been sold and cemented over. I hope the tribe is still in the running to get control of that land. Those hot springs were too precious of a gift from the earth to just sit there unappreciated. P.S., it was not too smart wandering around that area alone without dogs or guns – there have only been about 8 mountain lion attacks in the entire history of Calif., and 2 of them happened right there! Any news, please keep me posted,
Rose
---

Date: Wed, 7 Jan 2004 17:04:49 -0700                                                                                                          
From: Bob and Deb
Subject: San Juan Hotsprings
Found your site on the San Juan Hotsprings. I was stationed at the San Juan Fire Station (Forest Service Fire Station) from 1972-1975. I believe it was in 1975 July or August when I was awaken by two persons trying to break the stations door down. I jumped up and they were shouting '" redneck just shot a hippie at the hotsprings!" I called dispatch and then went to the springs, there was a vehicle (mustang) that loaded up the shot boy and tried to make a u-yurn and had slid off the road and was stuck. In the back seat was a dead boy shot in the stomach.  The caretaker of Star Ranch (the springs were star ranch property), his name was Whip Slaton had got in a hassle with the kids at the spring (private property) and shot the kid with a twenty-two pistol. Whip took off, they found his rolled over jeep later on Star Ranch and him shortly after (he has been drinking quite a bit). The Springs then were posted fenced and off limits to all. I heard Whip was sent up the river for life.     BG
---
Date: Wed, 5 May 2004 13:38:03 -0700
From: jtoscano
Your site brought back many memories. I used to go there in the late 80's with my girlfriend, now wife of 10 years..It was private, clean, and the only debbris in the tub was the occasional dead baby frogs in the pool...We drove through there about ten years ago and found out it was closed..It used to cost 12.00 per hour and 1.50 per towel.. Sometimes you can even get a glimpse of one guy with several girls..lucky guy,,anyway take care..joe
---
Date: Fri, 7 May 2004 22:02:58 EDT
Subject: hot springs
Today is May 7th, 2004. I went to what I thought was Casper's Wilderness Park with my daughter and her 5th grade class. We met a science instructor with the Orange County Educational program. They took us on small hikes around a stream, the last hike we went to was up a hill and around a curve and we ended at San Juan Hot Springs. I was very interested in why this was here. So I came home and looked it up on the Internet and came across your website. I thank you very much for all this great history. It answered all my questions about the mystery of the Hippie Hot springs.
K Mathews
Orange
---
Date: Tue, 27 Dec 2011 17:13:38 -0500 (EST)
An anonymous contributor wrote to me with a link to a real-estate listing for the cabin across the highway (I think) from the hot springs. Google for "MLS t11145100" if that link dies. Here's a screen-shot:
---
Date: 16 October 2011
Subject: san juan hot springs
From: Karin Klein
I know it's been a long time since you wrote about the hot springs, so I hope you're still reachable at this email address.
The park had closed off easy access to the hot springs after the 1993 fire because fence-jumpers were causing damage to the area. It's much deteriorated now from when you were there. In addition, the water in the hot springs contains a lot of bacteria; it's not really safe for soaking in. The park now does surveillance of the area by video camera.
But it's not illegal for people to go there...as long as they hike from the main entrance. I did that because I was writing a hiking book about Orange County (It's since been published--"50 Hikes in Orange County") and felt that this was an iconic spot. No hiking book had a legitimate guide to the hot springs...the only one that mentioned it had not been updated since the back gate was closed.
It's actually a 15-mile hike round trip, though I used the Juaneno Trail for much of it...a little longer hike, but much prettier. and I hiked past the hot springs to the back gate, then turned around. It's also made longer because the park no longer maintains San Juan Creek Trail between Cold Spring Canyon and Oso trails. Cold Spring Canyon's a particularly lovely part of the park.
Anyway, I'm also a volunteer naturalist for the county, and after doing that hike, felt it was a shame people never get to see the hot springs without the kind of hike most people wouldn't be willing to take. So I arranged with the ranger to get the key to the back gate once a month, and lead people on a hike to the hot springs, and down into Cold Spring Canyon as well. Third Sunday of each month. I've gathered a lot of history on the hot springs that I tell visitors about. You're welcome to join!
Karin Klein
---
Contact me
I'd love to hear more stories about the San Juan hot springs or other interesting finds. So please feel free to send me an email!
---

Copyright © 1999-2012 Tobin Fricke
$Id: index.html,v 1.6 2004/05/10 18:07:52 tobin Exp tobin $
---