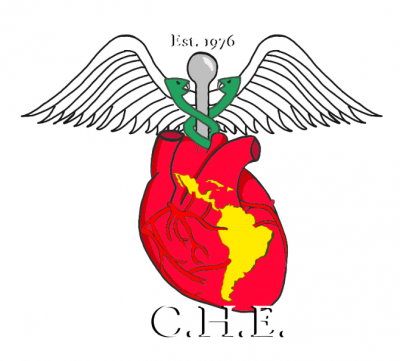 Established in 1976

Formerly known as Chicanxs/Latinxs in Health Education, Comunidad for Health Equity (C.H.E) was established in 1976 by four Chicanx/Latinx students at U.C. Berkeley. The focus was on underserved communities, the diversity of Chicanxs/Latinx in the health field, and a supportive community for Chicanx/Latinx students at Cal. By late 1998, the group had become inactive, until Melissa Cruz and Amanda Perez helped revive the group with only five active members. Since then, the club has expanded into a leading Latinx organization on campus, with roughly 40 members returning each semester. 
As a part of CHE, members have the opportunity to give back to their community, coordinate and participate in Pre-Health conferences, network with health professionals, and have fun at socials with their fellow CHEistas. Several resources are available for CHE members to make the most out of their time at Cal, ranging from inspiring guest speakers to cafecito study hours.

CHE takes pride in hosting events that inspire and motivate underrepresented folks to pursue careers in the health field. Our annual Minorities in Health Conference partners up with other student orgs in order to foster diversity in the health field. Our other major events include our annual Community Health Fair in which CHE interns are given the task of presenting health topics to elementary students in a fun and engaging way. Our Dia de Los Muertos Pre-Health Conference at UCSF provides the opportunity to attend health workshops for CHEistas to learn more about the health field. Last but not least, our annual Networking Roundtable Dinner allows CHEistas to network with and gain advice from health professionals from all different fields. As you can see, CHE does a lot to inspire and motivate the Chicanx/Latinx population at Cal.