Born and bred in the Southern California mountains, I have spent a majority of my lifetime outside. I continued this streak as undergraduate at Cal Poly San Luis Obispo, where I was a double major in history and political science.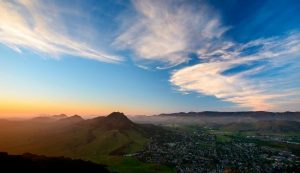 Following college, I moved to New York City as a member of Teach For America. For two years, I taught high school global history in an under-resourced school in Brooklyn and fell deeply in love with education. While in New York, I received my Master's in Education (M.Ed).
After two years in the City, I came back to the West Coast to get my Master's of Public Policy (M.P.P.) with an emphasis on K-12 public education reform. Since, I have also become increasingly interested in housing policy. In the spring of last year, I did a feasibility analysis to test whether tiny houses can be used as a viable option to house Oregon's homeless. 
I'm hoping to learn more about spatial analysis so to look closely at the linkages between subsidized housing and education outcomes.
Although my academic training is in research and quantitative methods, my real passions are longboarding, amateur windsurfing, climbing, hiking, and hanging out with dogs of all creeds and color.