In honor of the Catalan Fellowship organized by the Institut Ramon Lllul and taking place virtually this week, I thought I would share the opening of next Catalan title to come out from Open Letter: The Adventures and Misadventures of the Extraordinary and Admirable Joan Orpí, Conquistador and Founder of New Catalonia by Max Besora and Mara Faye Lethem. Preorder today from our website or your favorite indie bookstore.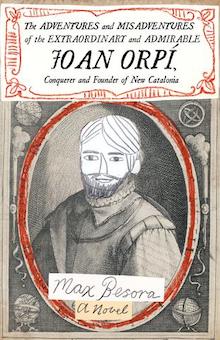 September 10, 1714,
the Siege of Barcelona
A group of infantry soldiers and their captain opt to smoke and drink in an abandoned theater rather than be stationed at the walls, firing against the Bourbon troops. Bombs fall on the city night and day, ceaselessly. Everything is ruin and desolation. Death hangs gloomily over everyone, scythe at the ready.
"What mindless suicide!" one of the soldiers suddenly exclaims. "We shall die as rats yf we continue on this way. A pox upon the Hapsburgs and a pox upon the Bourbons: !"
"Die as dogs, jolt-head!" chides another soldier. "I should beat thee down at present! For at least we shall make history! They'll write book after book about us, they will erect museums, make paintings, write poems in our honor . . . we shall be heroes of the fatherland!"
"Aye, if there's any fatherland left," grumbles a third infantryman.
"I had rather be a living deserter than a dead patriot," muses a fourth soldier.
"That's enough! Quiet, all ye!" bellows the troop's captain. "Chance to die and chance to live but, in any case, remember that the fatherland doesn't always coincide with the territory. I wot the tale of a man named Joan Orpí, who refounded our Catalonia on the other side of the globe, less than a century hence. On my word."
"Incredible!"
"Cock and pie!"
"And what befell henceforward, Captain?"
"And what befell henceforward, bid ye? Well, in 'is quest to try that all, he lived a thousand and one adventures," declares the captain. "Ye shant find these in any book of history, yet they be no less memorable or less important. Au contraire. Would ye care to hark, and forbear complaining for a time?"
The infantry soldiers smile like children, nod their heads, and perk up their ears. They pour more wine and pass around tobacco. The captain/narratorlights his wooden pipe and begins his declamation.
"Who was this adventurer what founded a New Catalonia thousands of leagues away, yet went to the diet of worms leaving naught a trace in our history?"
"Joan Orpí!" one soldier shrieks.
"Precisely! Who traversed seas fill'd withe mythical monsters and virgin forests at risk to his life (and the lives of many others) for a fistful of gold coins and (perchance) posthumous glory . . . ?"
"Orpí . . . !" bellows a soldier.
"The selfsame! And who risk'd chicaning the very Catholic Kings and came cross't near as many enemyes as friends?"
"Christopher Columbus . . . ?" ventures another soldier.
"No, ya beef-head, none other than Joan Orpí! At least that was what I was told by a corky criollo from the Yndies I happen'd upon one night when tippling in Seville. He quoth to be a 'friend of a Catalan conquistador, humble altho an old Christian[1] and a nobleman of New Andalusia in the Americas, later founder of New Catalonia.' Thus he even spake Catalan."
"Hold up . . . one moment, Captain!" says one of the soldiers. "Canst thou truly trust a brandy-face? Art thou convinsced the criollo was whom he sayd to be and that he werent lying with a latchet? How many years pass'd betwixt these events and the telling of them? And, once for all, why have I this tic in mine eye each tyme I get nervous?"
"Enuf tilly-tally, soldier, and merely heed the tale," orders the captain, in a didactic tone. "Whence my 'informant' explaint this historical drama to me, the criollo in question were four sheets to the wind. Nonetheless, I didst believe him. And knowth ye why? 1) For the criollo spake Catalan, and 2) for I be a man of faith (faith in the imagination, to be clear!). And now, allow me begin with chapter XVI, of whych I am inordinately fond."
[1] i.e. In the sixteenth and seventeenth centuries, the subject of blood purity divided the Hispanic world into new Christians, in other words, those descended from Arabs or Jews, and old Christians, of pure Christian blood.
CHAPTER XVI
In which young Orpí celebrates Carnaval
with his fraternity and ends up
dressed as the Stag King
I shall begin with a day when Joan Orpí was celebrating Carnaval. Following the parade, our young hero ended up in a cemetery, where a band of joyous revelers were engaged in a wide range of obscenities. Some were licking others' anuses, some were eating fruits and tomatoes they'd rubbed on their genitals, and others were drinking sacramental wine and masturbating and dancing to the improvised music of drums and tambourines. All were dedicated to the collective ritual, singing, shrieking, praying, making offerings and insinuations, muddy and half nude . . . ducks and rabbits fell at their hands . . . hens were violated and eviscerated . . . some slathered themselves with the blood of the dead animals—
[One instant, Captain . . . halt! Forbear the tale !]
There are a few other instances later on of this narrator captain being interrupted
"How now?" he asks, irritated.
"For the lyfe of us, we cannot fathom why thou beginnst with chapter sixteen. Would logick not state the first chapter?" asks one of the soldiers.
"Yea, start withe the first! The first!" cry out other soldiers.
"How's that? Doth ye seek the typical story with a beginning, middle, and end?" asks the captain, perplexed. "Dunderheads! Don't ye know that true literature is only true when written against itself? Why put plot over language and form?"
"Here we hie again," complains one of the soldiers. "Art thou one of those pedantic academics, ay? For if that be the case, I prefer to be killt by enemy troops . . ."
"Numbskulls!" bellows the infuriated captain. "When I speak of going against the narration I don't mean there shall bee no story, no adventures, no characters! I speak of the need for a hybrid construction, plurilingualism, exaggeration, hyperbole, pastiche, and bivocal discourse to bring together what convention & morality strive to keep separate. Literature must be a frontal attack designed to suspend all rational judgment in order to reinvent it each second anew!"
"I cannot bear these sermons . . ." says one of the soldiers.
"If he keeps up this proselytizing, I'm outta hither . . ."
"Yawn . . ."
"Fine!" exclaims the captain in exasperation. "Okay, Okay, fine! Quit thine complaining! I shall beginne at the beginning, as you wish! But no more interruptions, I'll lose the thread, and judge me not for mine invention, but rather for the grace of my wit, glossed in three books and their corresponding chapters, which one of ye shall 'copy' anon. And that's an order!"
BOOK ONE
IN WHICH IS NARRATED, WITH GREAT GUSTO AND AN EYE ON POSTERITY, ORPÍ'S INFANCY AND CHILDHOOD, FIRST IN THE TOWN OF PIERA AND ANON DURING HIS STUDIES IN THE CITY OF BARCELONA, WHERE HE HAD VARIED EXPERIENCES, AS MANY GOOD AS BAD, WHICH TAUGHT HIM THAT LIFE IS NO BED OF ROSES BUT RATHER A LONG ORDEAL WHERE ONE LEARNS FROM HARD KNOCKS, AND AS SUCH AND BEFITTING HIS STORY SHALL BE EXPLAINED PERHAPS NOT EXACTLY AS IT TRULY HAPPENED, BUT AT LEAST QUITE SIMILARLY.
tinyurlbitlyis.gdv.gdv.htplinkclck.ruulvis.netcutt.lyshrtco.detny.im