Lego Mindstorm EV3
There are 3 EV3 sets available in the Educational Robotics Library.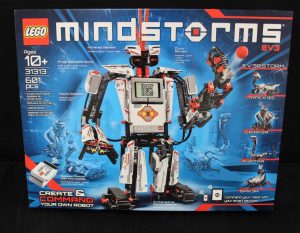 Each set includes many pieces. The following link shows all the different pieces the box has!
---
The following is LEGO's recommended way of approaching this set:
Build a Robot: There is a library of 17 different robot tutorials available on the LEGO EV3 page. Select the robot of your choice and it will show a video tutorial on how to construct the robot.
Bring Your Robot to Life: LEGO has provided a free programming application to control your robot. Simply click on the embedded link to see the different selections for your chosen device.
Command and Play: You can use your tablet or smartphone to command your robot. Details on the app can be found here.
Share Your Creations: Inspire others!
Rebuild for More Adventure: Go back to the robot library and make more robots!
---
LEGO has also provided four free apps to accompany this set. More details can be found in this link.